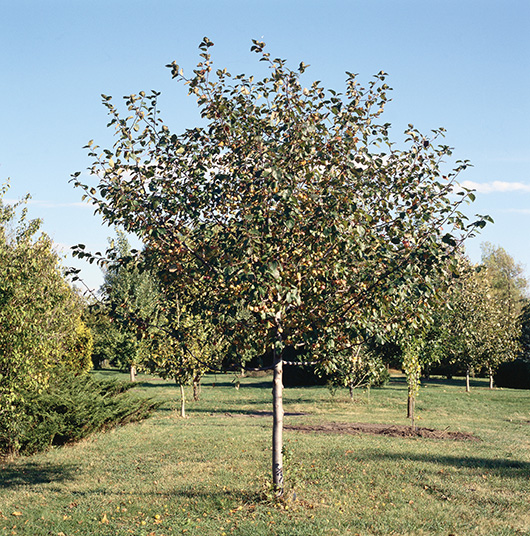 Family :

Rosaceae

Origin :

Horticultural

Hardiness :

4a

Exposition :

Sun

Height at maturity :

5 m

Spread at maturity :

5 m

Crown shape :

Pyramidal shape, wide, becoming rounded; Dense and flattened crown.

Roots :

Superficial

Spacing requirement from power lines :

None

Growth rate :

Average

Soil and moisture :

Drained soil; Medium humidity; Neutral pH and slightly acidic.

Fertility :

Self-sterile. Very useful as a pollinator for a variety of fruit trees.

Tolerance to pollution :

High

Common problems (disease, fungus, insects) :

Slightly susceptible to scab, very susceptible to rust; Very resistant to Japanese Beetle.

Special comments :

Spectacular flowering with fragrant double flowers, attracts birds and butterflies, exceptional fruits, beautiful colors in autumn. Good resistance to many diseases. Small tree.